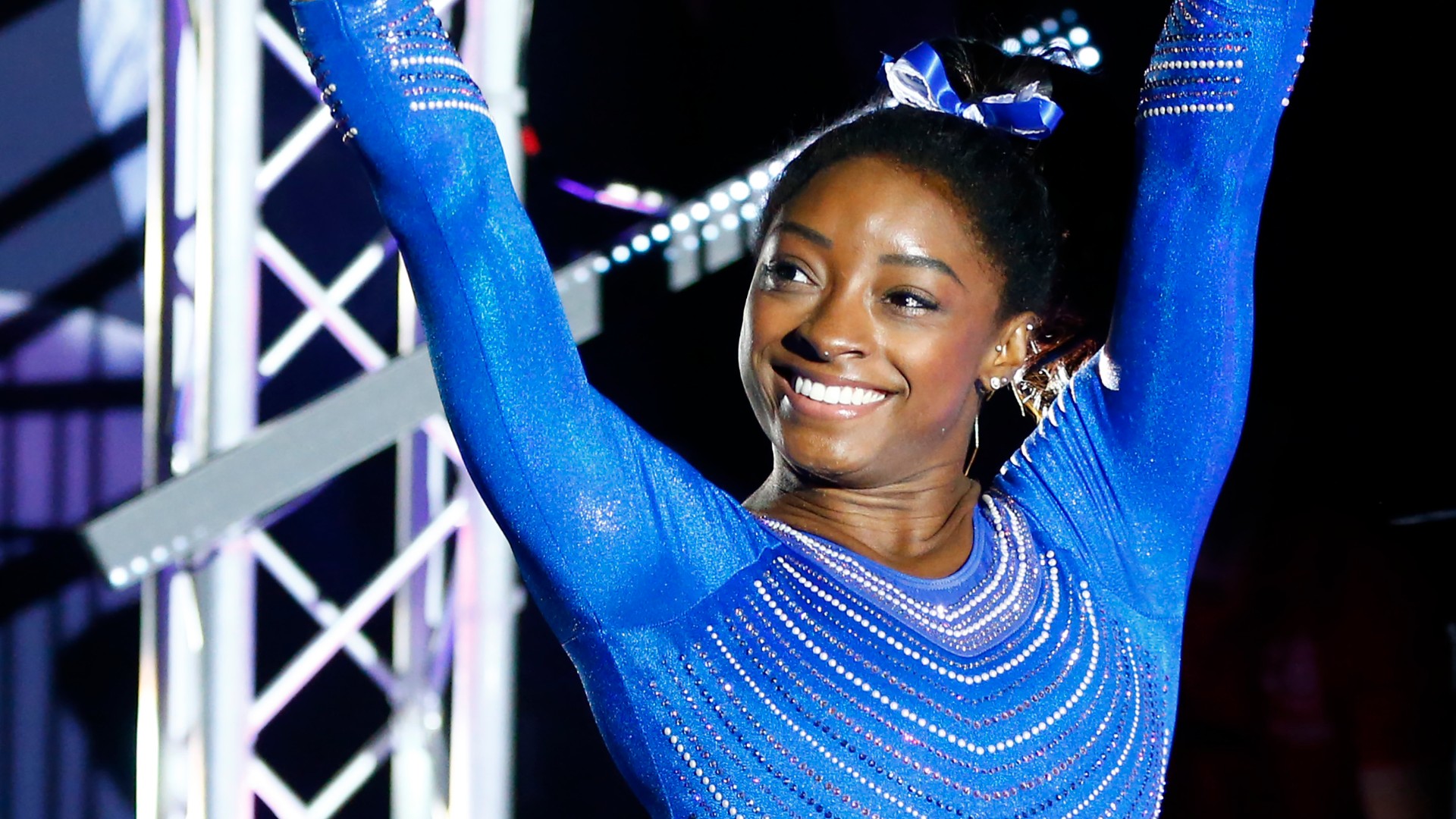 16 Aug

Simone Biles Makes History Again

Simone Biles can fly. Until it's proven otherwise, I will remain convinced. There's too much evidence it's true, that Biles can really fly, or at least vault into the air and remain there, briefly, magically, like no one's ever done. That's just the half of it, of course. Did you see the video of Biles's floor routine at last weekend's U.S. national gymnastics championships? Early in the routine, the 22-year-old from Houston crosses the mat and launches into what is known as a "triple twisting double somersault," a jaw-dropping move in which she flipped twice, rocketed off the ground, spun her body, and really, for a moment, looked as if she was defying gravity.

She was flying. I don't know how else to put it. It looked unprecedented because it is unprecedented. Nobody in women's gymnastics had ever done anything like this—and, as some observers have pointed out, Biles may do this triple twist double flip even better than the few men who have done it, because of her control and command, the way she tucks her body through the motion and nails the landing.

Look: I'm not going to pretend to be an expert here. For expertise, you're going to have to turn to my Journal colleague, Louise Radnofsky, who really knows what she's talking about. I just know that from my untrained eye, it looked incredible, one of those moments when an athlete does something you've absolutely never seen another human being ever do.

They don't even have a way to measure it. Louise wrote about this, that once more, Biles—who actually got off to an uncharacteristically bad start at nationals—is redefining the boundaries of an entire sport. There is already a signature floor move named after her—called a "Biles"—and there's a "Biles" on the vault as well. This new floor move probably goes down as a "Biles II," Radnofsky wrote. Gymnastics grades moves on a scale of difficulty from A to I, and what Biles did Sunday was probably, well, a…J.

"There's no such thing as a J rating," Radnofsky wrote.

"SIMONE BILES HAS CHANGED GYMNASTICS FOREVER," read a headline on Slate.

"FLIPPING SIMONE BILES STILL FLOATING THROUGH UPPER MESOSPHERE," wrote The Onion, not terribly overstating it.

"Even after Biles someday retires, the changed landscape of the sport will remain," Slate's Rebecca Schuman wrote.

This is what the greatest athletes do. Their dominance inverts the whole game. Kareem Abdul-Jabbar, then Lew Alcindor, caused the NCAA to ban dunking; Bob Gibson prompted Major League Baseball to lower the pitcher's mound. Remember when golf courses used to try to "Tiger proof" their layouts, just to give the rest of the field a chance against Tiger Woods?

Gymnastics can't really do that. That's good, because I want to see how far Biles can take this. What happened at nationals is likely a sneak preview of what Biles will unleash at the 2020 Olympics in Tokyo next summer.

I can't wait. Can you?
She is now a six-time all-around national champion, a four-time all-around world champion, and a four-time gold medalist at the Olympic Games. "She's been competing against herself for a long time," Louisa Thomas wrote in the New Yorker. Biles has a case as one of the best athletes on the planet—certainly among the most riveting. Gymnastics may not grab the everyday attention of the casual sports fan, but a Biles performance stops the clock. Video of her triple twisting double somersault filled social media for at least a day.
Such thrills have the potential to airbrush real turmoil inside USA Gymnastics, which is still rightly under siege for having a serial sexual abuser in its ranks. But Biles, who has said that she, too, was abused by the now-incarcerated Larry Nassar, is refusing to let that outrage get buried.
"It's hard coming here for an organization having had them failed us so many times," Biles said as nationals began. Of USA Gymnastics, she said: "You had one job. You literally had one job and you didn't protect us."
It was brave and stirring. You would not have blamed Biles if she just wanted to focus on her competition, but she refuses to check her anger. The best athlete in her sport is using her platform to speak up for others, and hold power accountable.
It is a rare athlete who can take all that pain and pressure — and keep rising above.
But Simone Biles can fly. I've seen it with my own two eyes.